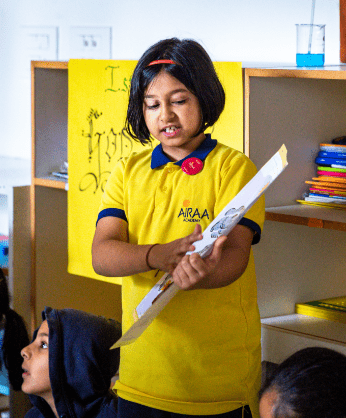 The Elementary lessons and materials are multi-sensory and dramatic in nature. They are meant to ignite the imagination and curiosity of young learners.
The Elementary program is for students between the age group of six to twelve years. This is the time when students need to be guided to channelize their curiosity to learn through exploration, orientation, imagination, repetition, precision and communication. At Airaa, we offer the Spiral Curriculum through Montessori. By doing so, we intend to help the students to understand that each subject is interrelated. 
Our curriculum helps to bridge the gap between different subjects like Physics, Geography and History. This is a study of the physical universe along with Biology and Chemistry, which belong to the world of nature and human experiences. With the Elementary Montessori Curriculum, each lesson leads to multiple new lessons.
The 5 primary environments in a Montessori classroom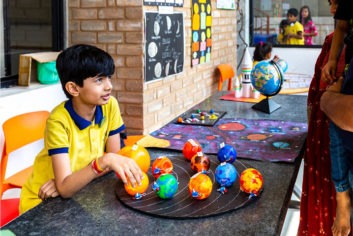 Practical life and Sensorial
This experience is designed to teach children everyday skills that help learners care for themselves and the environment. By learning to use familiar, daily objects, children can confidently carry out daily tasks like eating, dressing and cleaning. This sensorial experience increases their observation and attention to detail, which helps them identify similarities, and contrasts, thereby aiding their minds to compare, classify and derive conclusions.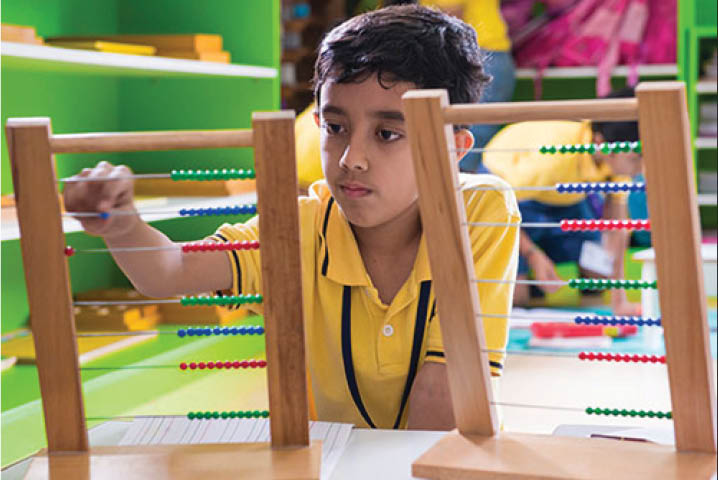 Montessori students are exposed to the study of the basics of Algebra, Geometry, Statistics and Logic along through the use of Unified Math. Arithmetic is the science of computing. By using positive real numbers and sensorial experiences, the concepts are instilled into the minds of the children at an early age.
In the Montessori method, children learn writing before reading. This helps children to explore drawing and forming of letters. Language is made available to children in natural and exciting form. In the language area, a large variety of reading readiness material for phonetic analysis, word attack skills and reading, as well as materials for the refinement of motor control for writing are made available to the children.
Sciences, Geography & The Arts
The scope of the Montessori science curriculum includes an in-depth preview to subjects like Botany, Zoology, Chemistry, Physics, Geology and Astronomy. The Nature Table displays plants, animals and experiments. Subjects like History and Geography are introduced to children at an early age of three; while Music, Movement Education and Art are also included, as important parts to the curriculum.
History provides the framework for all the fields of study in the Montessori classroom which prepares children to study it from an analytical and comparative point of view. Our learners study history as a series of interesting stories that they immerse themselves in.
Sports is not only a method of staying fit but a passion for all of us at Airaa. Our facilitators and learners end up playing a lot of games together. We want our learners to be healthy and fit but we are also interested to enable them to learn from each game. We want them to learn life lessons like team spirit, the ability to win and lose and the ability to grow together. 

At Airaa, we take food and nutrition of our learners extremely seriously. We insist that all learners eat their lunch at Airaa and food from home is not allowed. We craft healthy and nutritious meals which have the right amount of nutrients needed for growing children. We are mindful of the special needs of some of our children and plan accordingly. 
We also believe that there is a lot to learn for each child from the act of communal eating. Eating together, the same food at the same time and then washing your own plate builds character and strong bonds between the learners. 
Airaa believes that extra-curricular activities lead to an overall development of children and helps them to learn to communicate with other children, and learn to be social through activities and engagement. At Airaa, we have a host of extra-curricular activities which are conducted regularly.
Slide
Aimed at enhancing the social and emotional quotient of children, theatre and team-building classes will provide an environment where children will learn about cooperation, collaboration and will develop a sense of community. These classes will be interspersed with sessions of poetry, drama, songs, dance, mime and craft classes with sessions on various folk art forms, puppetry, rhythm classes and story-telling sessions.
Slide
School of Indian Karate teaches Karate to the students of Airaa. The School of Indian Karate has had a rich and fruitful existence for the past 45 years. Students will be learning fitness and basic self-defence techniques along with Katas (movements) at the Junior Belt Level
Slide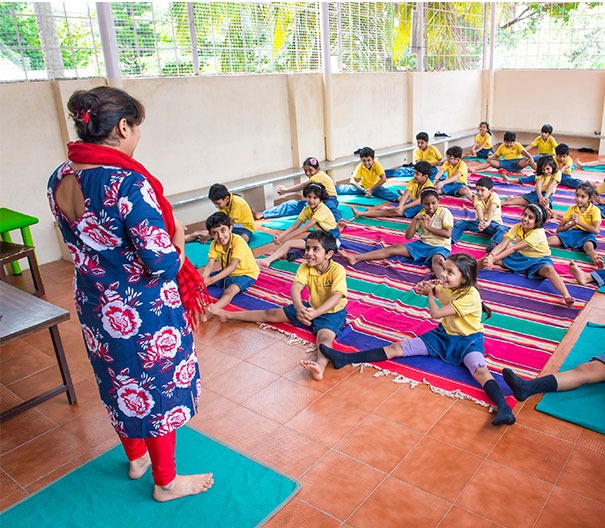 Yoga at a young age disciplines the body and mind and cements one's basic physical posture. Our expert teacher at Airaa makes Yoga classes interesting and exciting to nurture young raw minds. Airaa believes that practicing Yoga from a young age enables children to not only respect but also understand their bodies more.